January 2011

Saab 9-5 2.8 HP Concept: A powerful executive saloon with an individual note

Even more exclusive, individual and unmistakeable - that is a brief summary of the new 9-5 2.8 HP Concept, which previews a few of the upcoming products for the 9-5 from Hirsch Performance in Switzerland.
Its exterior characteristics include forged 20" wheels and a lowering kit, which together ensure excellent handling in all driving conditions, and provides unprecedented levels of driving pleasure.

A Saab engine is defined by its ample torque and high power, and its yet moderate fuel consumption. But it is also characterized by a robust construction with potential for extra power, and this trait is fully utilised in the performance upgrade from Hirsch Performance, which releases the built-in potential without compromising safety or durability.

In the Saab 9-5 2.8 HP Concept, the 243 kW/330 hp V6 petrol engine smoothly delivers a high peak power as well as a maximum torque of 430 Nm over a wide rpm band. The turbocharged engine can accelerate the Saab 9-5 HP Concept equipped with XWD and automatic transmission from 0 – 100 km/h in only 6.1 seconds and enables a top speed of 260 km/h.

These performace numbers make the Saab 9-5 2.8 HP Concept the most powerful Trollhättan-built Saab with factory warranty ever. Saab are proud to speak of responsible performance; powertrains which despite their enormous power potential remain frugal in their consumption of resources, and the powertrain in the Saab 9-5 2.8 HP Concept is a prime example of this philosophy.

The first of the products featured on the Saab 9-5 HP Concept became available in December 2010, and additional products will follow during 2011.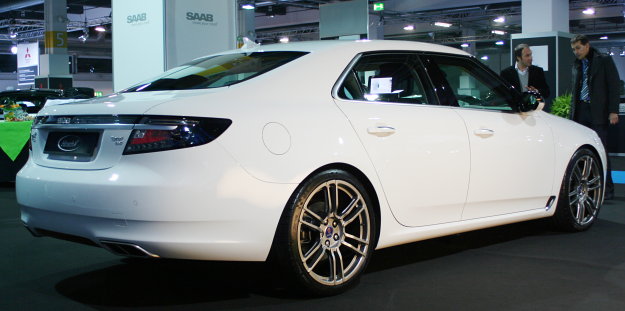 01.
330HP Performance upgrade for the Saab 9-5 Turbo6
The most powerful Saab with factory warranty
With the performance upgrade from Hirsch Performance, the 2.8T V6 delivers 243 kW/330 hp and a maximum torque of 430 Nm available over a wide rpm band.
The turbocharged power plant accelerates the new Saab 9-5 from 0 – 100 km/h in only 6.1 seconds and reaches a top speed of 260 km/h.
The performance upgrade is homologated for aftermarket installation, and has been certified to the Euro 5 and EPA/CARB LEV II LEV emissions standards.

Performance data and technical specifications:
|
Go to top
02.
9x20" Forged alloy wheel for the Saab 9-5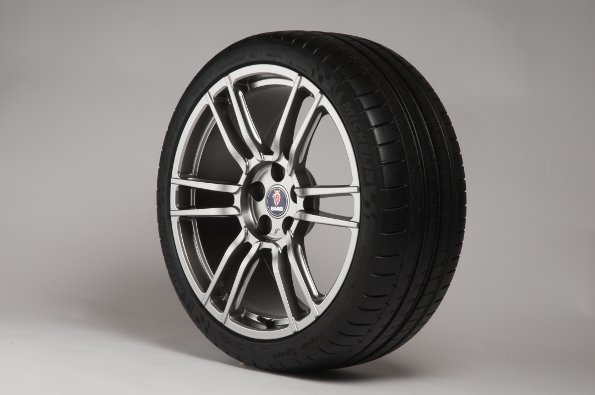 The elegant new 9x20" forged wheel is impressive not only by virtue of its attractive design, but also thanks to its exceptionally low weight.
For very large wheels, the often used low pressure casting production method becomes inefficient, and the wheels become heavy. The solution is forged wheels, ideally forged in one piece. The new Hirsch Performance wheel in 9.0x20" weighs only 11 kgs, while dimensioned for a very high strength. When driving, you will notice the excellent balance and low weight that ensure a smooth, comfortable ride. The Liquid Titanium colour gives the wheel an elegant appearance that harmonizes perfectly with the design of the new Saab 9-5.
The new Hirsch Performance forged wheel; a masterpiece at an attractive price.

Go to top
03.
180HP Performance upgrade for the Saab 9-5 2.0TiD

180HP Performance upgrade for the Saab 9-5 2.0 TiD with automatic and manual transmission.
The enormous development and testing effort invested by Hirsch Performance in diesel engine calibration is delivering results.
The high torque of 400Nm is available from remarkably low rpm's. The harmonius power delivery and wide rpm band provide larger reserves when overtaking and markedly improved performance for the 2.0TiD with variable geometry turbocharger. The fuel consumption remains very low, and the emissions are Euro 5 - certified.
Extensive testing in test benches and on the road ensure the high quality and durability that is expected of a Hirsch Performance product.
Available from Q1 2011.

Go to top
04.
200HP Performance upgrade for the 2011 Saab 9-3 1.9TTiD

The proven performance upgrade from 180hp to 200hp for the 9-3 TTiD is now also available for Euro5 model year 2011 cars.
New for this year is also the upgrade from 160hp to 200hp and from 130hp to 170hp, which will follow shortly.
The 200hp performance upgrade generates an immense torque of 430 Nm already at very low rpm's for a relaxed driving experience, and the power delivery is exceptionally smooth, completely masking the transition between the two turbochargers.
As a result, the car becomes much more dynamic to drive, while at the same time achieveing the best fuel economy ever recorded by Hirsch Performance; from 4.7l/100km. The performance upgrades are Euro 5 - compliant.

Go to top
05.
Sports steering wheel for the Saab 9-3
The new sports steering wheel features a combination of perforated and smooth leather, and is slightly thicker than the original steering wheel for optimal grip.
It is sculpted to fit the driver's hands perfectly, and equipped with a flattened underside to add a sporty touch to your Saab cockpit.
The steering wheel is available for the Saab 9-3 from 2006 and onwards.


Product information
|
Go to top
06.
Special offer
Performance upgrades for used vehicles


Starting February 1:st, Hirsch Performance offers a special discount on all performance upgrades for vehicles from model year 2007 and older.
This special offer makes it possible for owners of older Saab models to upgrade their vehicles at a very attractive price and enjoy the Hirsch Performance driving experience.

Just like with all other software performance upgrades from Hirsch Performance, it is possible to install a time-limited trial performance upgrade in your car. If you you wish to keep the upgrade after a few days of testing, simply inform your Saab dealer. Otherwise the software can be removed free of charge within 10 days.
Contact your Saab dealership today for details.

The 30% discount is on the consumer price (excluding VAT) and is valid from February 1, 2011. Please contact your dealer for a price quote including installation costs.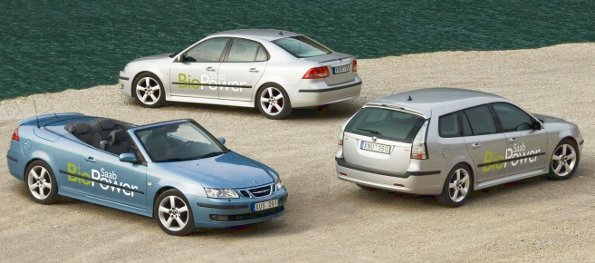 Product availability
|
Go to top
07.
Aerodynamics kit for the Saab 9-3
Excellent driving characteristics in sporty and elegant design at a moderate price.

Body kit (8 pieces)

Just like its carbon fibre sibling, the new body kit improves aerodynamic stability, downforce and drag, and contributes to a dynamic look which harmonises well with the original Saab design. The new kit is however available for both Linear/Vector and Aero vehicles of all body types from model year 2008 onwards, at a third of the price for the carbon fibre version.

The kit is included in the whole vehicle type approval of the car so it can be installed on all markets without any need for additional inspection, and meets all requirements on crash safety and pedestrian protection.



Go to top